| | |
| --- | --- |
| Monday | |
| Tuesday | |
| Wednesday | |
| Thursday | |
| Friday | |
| Saturday | |
| Sunday | |
Located At
153 Silver Springs Rd,
Phoenixville, PA
19460
(610) 935-9130
Get directions
If your house has a pest control problem, you don't need to be told to clean it out. However, it's not always easy to find a bug and ant exterminator service that can really take care of everything. Ants are particularly stubborn, and only an experienced pest control service will be able to properly clean the place. Bed bugs removal is another service that requires a great deal of finesse.
Many bugs and insects can be annoying, a health risk, or do damage to your property. Bees and wasp are especially bothersome as sting if they are upset or threatened, it is recommended to hire a bee exterminator to remove a nest from your home. Bigger animals can also be a problem. This is why many extermination companies also offer rodent control.

You can contact C R Davis & Sons Pest Control Inc if you're looking for quality bug and pest removal in Phoenixville, PA. We specialize in cockroach extermination, bed bug removal, termites removal, and getting rid of bed bugs and other pest.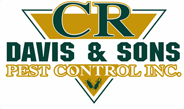 Our Services
Contact Us Online
Associations & Memberships
Call Today!
We'll be happy to answer any questions you have.
(610) 935-9130